WhatsApp Blocker
| | |
| --- | --- |
| | WhatsApp Blocker is the free tool to quickly Block WhatsApp on your Windows computer from all web browsers & WhatsApp application. |
It operates completely in stealth mode without installing any plugins or running any programs in the background
Now a days almost everyone is hooked to WhatsApp all the times. It has become difficult to ensure employee productivity in companies and equally impossible for parents to control their childrens.
This tool will be very useful for parents to block children from using WhatsApp during exam times. Also useful for universities or colleges or small offices where administrator can block acess to WhatsApp during work hours.
WhatsApp Blocker is successfully tested on all platforms starting from Windows XP to Windows 10.
Free Tool to block or unblock WhatsApp
Block WhatsApp from all browsers, applications & WhatsApp application
Automatically blocks for all users on your computer
Operates in stealth mode, no programs running in background
Instantly blocks or unblocks without logging off or restarting the system
Fully portable, does not require any .NET or other dependencies
Includes Installer for local installation & un-installation
Works on both 32-bit & 64-bit systems from Windows XP to Windows 10
WhatsApp Blocker includes Installer so that you can install it locally on your system for regular usage. This installer has intuitive wizard which guides you through series of steps in completion of installation.
At any point of time, you can uninstall the product using the Uninstaller located at following location (by default)
[Windows 32 bit]
C:\Program Files\SecurityXploded\WhatsAppBlocker

[Windows 64 bit]
C:\Program Files (x86)\SecurityXploded\WhatsAppBlocker
'WhatsApp Blocker' is very easy to use tool with its cool GUI interface.
Here are the simple steps,
Run 'WhatsApp Blocker' on your system as Administrator
It will show you the current status of WhatsApp as seen in the screenshots below.
Now you can just click on button below to Block or Unblock WhatsApp.
That's all :). Now you can close it, no need to run it in the background.
Note that some times, you may have to close and launch the applications (like WhatsApp, Firefox, Chrome, IE etc) again for changes to take effect.
Here is the screenshot of WhatsApp Blocker before blocking operation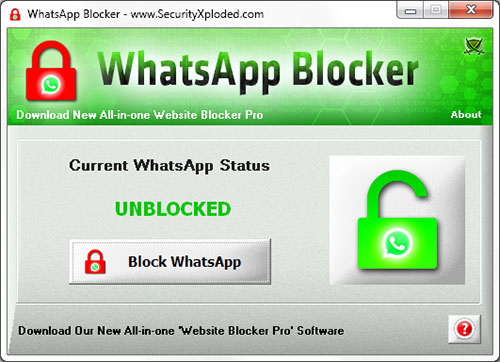 Here is the screenshot of WhatsApp Blocker after blocking operation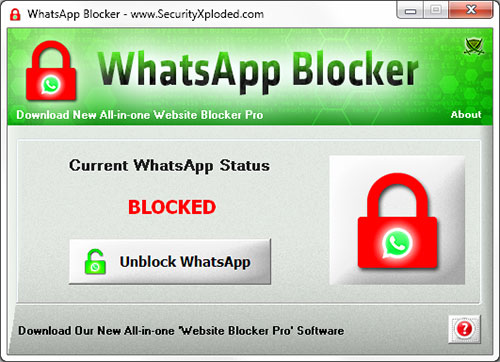 Here is the screenshot of WhatsApp Desktop Application after blocking operation
Here is the screenshot of WhatsApp website from Chrome browser after Blocking operation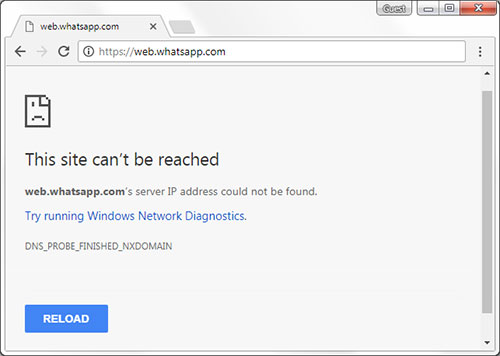 First public release of WhatsApp Blocker software