Universal Ad Blocker

Version: 5.0
| | |
| --- | --- |
| | Universal Ad Blocker is the free all-in-one software to quickly Block Ads across all Web Browsers such as Firefox, Chrome, IE, Safari, Opera etc. |
These days every website is filled with so many advertisements that it is often difficult to distinguish between Ads and the actual content. Not only it is annoying but it also leads to very slower browsing due to loading of Ads.
Now, 'Universal Ad Blocker' can help you to easily block all these annoying Ads and lets you enjoy cleaner, faster web browsing.
Currently it can successfully block Ads from all these popular Ad networks
Google AdWords
Yahoo Bing Ad Network
BuySellAds
BidVertiser
AdBrite
Media.net
Clicksor
Infolinks
Technorati Media
AdRoll
PubMatic
AppNexus
Chitika
Skimlinks
Dynamic Oxygen
Kontera
Tribal Fusion
Adversal
Qadabra
ExoClick
AdSpeed
AOL Ad Network
LinkShare
Vibrant Media
NetShelter
LifeStreet Media
Adversal
Paypopup
Taboola
and many more...
Anytime you can Block or Unblock all the above Ads with just a click of a button. Also it does not require any Browser extensions/add-ons, firewall or proxy server setup.
'Universal Ad Blocker' works on both 32-bit & 64-bit systems starting from Windows XP to Windows 10.
One Click Solution to Block Ads across all Web Browsers
Does not Install any Browser Extensions or Add-ons
So 'No Privacy' concerns unlike other similar solutions
Unblock Ads anytime with just a click
Very easy to use for all generation of Users
No need to Log-off or Restart the system
No need to keep the tool running
Fully Portable, does not require Java, .NET or any other components
Includes Installer for local installation & un-installation


Universal Ad Blocker includes Installer so that you can install it locally on your system for regular usage. This installer has intuitive wizard which guides you through series of steps in completion of installation.
At any point of time, you can uninstall the product using the Uninstaller located at following location (by default)
[Windows 32 bit]
C:\Program Files\SecurityXploded\UniversalAdBlocker

[Windows 64 bit]
C:\Program Files (x86)\SecurityXploded\UniversalAdBlocker
'Universal Ad Blocker' is very easy to use tool with its cool GUI interface.

Here are the simple steps,
Run 'Universal Ad Blocker' on your system as Administrator
It will show you the current status of Ads (Blocked/Unblocked) as seen in the screenshots below.
Now you can just click on Block or Unblock button to block or unblock All Ads.
That's all :)
Note that some times, you may have to close and launch the browsers (like Firefox, Chrome, IE etc) again for changes to take effect.
Universal Ad Blocker currently blocks Ads from most of the popular Ad networks. However you may occasionally see the Ads from other not so popular ones.
In such cases, just send us the website link and we may be able to support for the same in our upcoming releases.
Here are the screenshots of 'Universal Ad Blocker'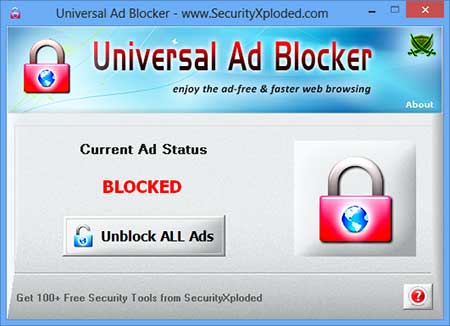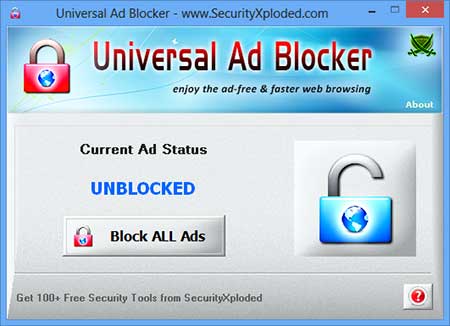 Mega 2019 release with updated Ad blocker database including Google adsense
Mega 2017 edition with the support for AD blocking on Windows 10 and featuring new Installer. Also updated and added support for more AD networks.
Added support for blocking 20+ more AD networks and traffic redirectors.
Support for blocking video ads from DailyMotion as well as block text ads from ad networks like Adversal, Paypopup, Taboola etc. Also integrated Uninstaller into Windows Add/Remove Programs.
Mega version with a special feature to block YouTube Video Ads. Also supports blocking Ads from popular networks including Linkshare, Vibrant Media, NetShelter, LifeStreet Media etc.
First public release of Universal Ad Blocker
Universal Ad Blocker is designed with a good purpose to help users to block annoying Ads and thereby enjoy faster web browsing.

Like any tool its use either good or bad, depends upon the user who uses it. However author is not responsible for any damage caused due to misuse of this tool.

For more details, read our complete License & Disclaimer Policy.