Smart Windows App Blocker

Version: 3.0
| | |
| --- | --- |
| | Smart Windows App Blocker is the Free Tool to quickly Block or Unblock any Windows Application with just a click. |
Once you block or Unblock the application, it is effective immediately. There is no need tolog-off or restart the system. It displays detailed list of all the Blocked applications and you can select any of the Blocked app and unblock it instantly.
It is ideal tool for administrators to block access to privileged or sensitive applications. Also parents can use it to prevent their kids from running certain programs.
One of the unique feature of this tool is that it allows you to TEST the blocked app for quick verification to see if if it is really disabled or not.
Smart Windows App Blocker works on all platforms starting from Windows XP to Windows 10.
Instantly Block or Unblock any Windows Application/Process/Program
No need to log-off or restart the system
Displays list of all the Blocked applications
Test the Blocked Application for quick verification
Useful for Administrators and Parents
Supports quick Drag & Drop of Application
Free and Very Easy to Use Tool
Fully Portable, does not require Java or .NET
Includes Installer for local Installation & Uninstallation.

Smart Windows App Blocker comes with Installer to make it easier to install it locally on your system for regular usage. This installer has intuitive wizard which guides you through series of steps in completion of installation.
At any point of time, you can uninstall the product using the Uninstaller located at following location (by default)
[Windows 32 bit]
C:\Program Files\SecurityXploded\SmartWindowsAppBlocker

[Windows 64 bit]
C:\Program Files (x86)\SecurityXploded\SmartWindowsAppBlocker
Smart Windows App Blocker is easy to use with its simple GUI interface.
Here are the brief usage details
Launch SmartWindowsAppBlocker on your system as Administrator
Just 'Drag & Drop' your Application EXE file or click on Browse button
After selecting the app, just click on 'Block App' to quickly Block it. On success, it will be added to list of Blocked Applications.
Now you can select the app and click on 'Test App' to quickly verify it.
Anytime you can select the App from the displayed list and unblock it by clicking on 'Unblock App' button.
Screenshot 1: Smart Windows App Blocker showing all the Blocked Apps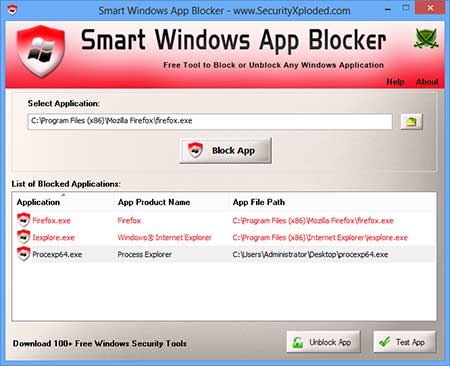 Mega 2016 edition to support blocking applications on Windows 10. Also added new Installer
Integrated Uninstaller into Windows Add/Remove Programs, now you can uninstall it in a standard way.
Right click list menu to quickly copy the Application File Path
First public release of SmartWindowsAppBlocker