Pcprox RFID Reader

Version: 3.0
| | |
| --- | --- |
| | Pcprox RFID Reader is the FREE tool for reading RFID/HID card ID using pcProx USB readers. |
PcProx is popular range of HID (RFID) card readers - from RFIdeas Inc - typically used by administrators to configure and enroll new (HID based) access cards. These access cards are commonly used as identification and tracking mechanism for employees in most organizations around the world.
'Pcprox RFID Reader' makes it easy to read the ID or number embedded inside those HID based access cards. It supports all range of USB based PcProx readers from RFIdeas Inc.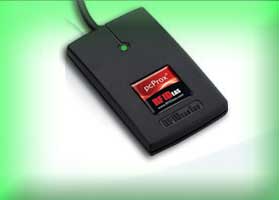 Here are common use cases of Pcprox RFID Reader

Offers great help to administrators while configuring & enrolling new access cards (HID)
Makes it easy for troubleshooting any problems associated with pcProx card reader or HID card.
In case of manual registration process, user can find out their HID card ID and send it for registration.
Just for fun, you can find out the ID or number of the HID card that you are carrying.
Pcprox RFID Reader works on most of the Windows platforms starting from Windows XP to Windows 10.
Simple tool to instantly read the HID/RFID card using pcProx USB readers.
Great for troubleshooting any issues associated with pcProx USB reader or HID card.
Easier and faster to use with its user friendly cool GUI interface.
Support for local Installation and uninstallation of the software.
It comes with simple Instaler that helps you to install it locally on your system for regular usage. It has intuitive setup wizard which guides you through series of steps in completion of installation.
At any point of time, you can uninstall the product using the Uninstaller located at following location (by default)
[Windows 32 bit]
C:\Program Files\SecurityXploded\PcproxRFIDReader

[Windows 64 bit]
C:\Program Files (x86)\SecurityXploded\PcproxRFIDReader
PcproxRFIDReader is easy to use with its simple GUI interface.

Here are the brief usage details
First connect the pcProx USB reader to your desktop/laptop.
Then keep your access card (HID card) on the pcProx reader. As soon as you place the card on the reader, LED will glow green. There may be other readers which may not have LED.
Next launch the PcproxRFIDReader from its installed location and click on "Scan pcProx ID" button.
Within few moments your card ID will be displayed in the text box in both decimal and hex format.
Now you can copy this card number and use it wherever you want.
Screenshot 1: PcproxRFIDReader showing the scanned HID card ID.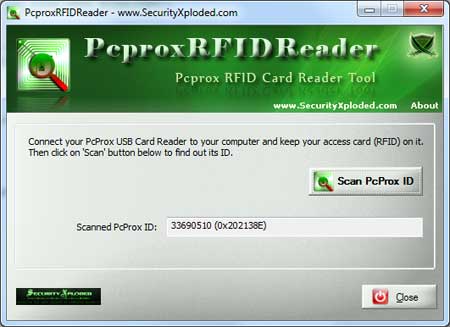 Mega 2016 release to support for new Windows 10 version.
Improved GUI interface with glowing icon effects.
Support for Windows 8, Fix for Refresh screen problem and UI improvements.
First public release of PcproxRFIDReader