FTP Password Sniffer

Version: 6.0
| | |
| --- | --- |
| | FTP Password Sniffer is the universal FTP password recovery tool for any of your favorite FTP application such as FileZilla, SmartFtp etc. |
Important: This software requires WinPcap driver for capturing network packets. You can install the same from here
It can not only recover the lost FTP account password but also can sniff and catch any of the FTP passwords on your your network, thus making it a great tool for penetration testers.
FTP Password Sniffer works on both 32-bit & 64-bit platforms starting from Windows XP to Windows 10.
Universal FTP password recovery tool supporting most of the prominent FTP applications.
Recover password of any length and complexity.
Instantly decode the username & password for any FTP server account and present it in clear text.
Backup the recovered FTP password list to HTML/XML/Text/CSV file
Easier and faster to use with its enhanced user friendly GUI interface.
Support for local Installation and uninstallation of the software.
Here are the some of the main FTP applications that are supported,
3D-FTP
AbsoluteTelnet
ALFTP
BitKinex
BulletProof FTP
Classic FTP
CoffeeCup Direct FTP
CoffeeCup Free FTP
CoreFTP
CrossFTP
CuteFTP
ExpanDrive
FileZilla
FireFTP
FlashFXP
Fling FTP
FTP Voyager
Global Downloader
Glub Tech Secure FTP
LeechFTP
Mosaic
NcFTP
net2ftp
PSFTP
SFTPPlus
ScripFTP
SmartFTP
Sysax FTP Automation
WebDrive
WinSCP
WISE-FTP
WS_FTP
and many more
FTP Password Sniffer requires WinPcap to capture the network packets. Below is the download location for different operating system Make sure you install WinPcap driver before running this application.
FTP Password Sniffer comes with Installer which install all the required softwares along with main software so you do not have to worry about separately installing any of the dependent softwares.
It has intuitive setup wizard which guides you through series of steps in completion of installation.
At any point of time, you can uninstall the product using the Uninstaller located at following location (by default)
[Windows 32 bit]
C:\Program Files\SecurityXploded\FTPPasswordSniffer

[Windows 64 bit]
C:\Program Files (x86)\SecurityXploded\FTPPasswordSniffer
This software requires WinPcap driver for capturing network packets. So make sure you install it from here before running this appication.
Here is the detailed information on how to effectively use FTPPasswordSniffer to recover the lost passwords or use it as pen test tool to catch the FTP passwords flowing through the wire
Launch the FTPPasswordSniffer from its installed location.
Select the right 'network interface' for sniffing the FTP packets. If you don't know then you can experiment with each of them and see which one works !
Then click on 'Start FTP Sniffer' button and it will start sniffing operation as shown in the screenshot below.
Now run your favorite FTP application and connect< to pre-configured FTP server whose password you want to recover.
As you are being connected to FTP server, FTPPasswordSniffer will transparently catch these FTP login packets and decode the username/password in clear text.
You can now stop the recovery operation and save the recovered password list to HTML/XML/Text/CSV file by clicking on 'Export' button and then select the type of file from the drop down box of 'Save File Dialog'.
For penetration testing you have to make sure that you are running FTP Password Sniffer on the right system such as Gateway so that you can catch most of the FTP packets flowing from local network to Internet. Rest of the steps for catching and decoding FTP account passwords are same as explained earlier.
Screenshot 1: FTP Password Sniffer is showing the recovered FTP account passwords.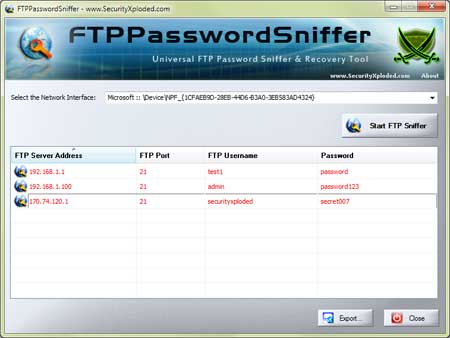 Screenshot 2: List of of recovered FTP account passwords by FTP Password Sniffer in HTML format.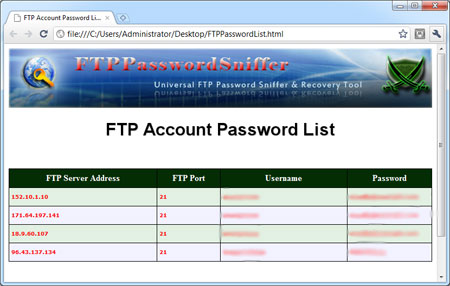 FTP Password Sniffer depends upon WinPcap for capturing network packets. So if you have not installed it earlier then you will see the error message like below
"This application has failed to start because wpcap.dll was not found. Re-installing the application may fix the problem"
In such case you can just install WinPcap driver from here.
New feature added to Installer to dynamically download latest version
New feature added to Installer to dynamically download latest version
Major release to support FTP Password Sniffing on Windows 10 version
Integrated latest version of windows packet sniffer engine. Also integrated Uninstaller into Windows Add/Remove Programs.
New feature to save the password report in CSV (Comma-Seperated Values) File Format. Improved GUI interface with magnifying icon effects.
Support for Windows 8. Added right click context menu option to quickly copy the password. Fixed the missing winpcap setup file in the Installer.
Fixed the problem with screen refresh and other UI improvements.
Support to save recovered password list to XML/Text file along with existing HTML support. New enhanced interface with cool banner.
Added links for PasswordForensics.com in about section & few bug fixes.
First public release of FTPPasswordSniffer
FTP Password Sniffer is designed to recover the lost FTP account passwords and to help penetration testers.

Like any tool its use either good or bad, depends upon the user who uses it. However Author or SecurityXploded is not responsible for any damage caused due to misuse of this tool.

Read complete License & Disclaimer terms here.