| | |
| --- | --- |
| | Stream Armor is the sophisticated tool to discover Hidden Alternate Data Streams (ADS) and clean them completely from your system. |
It's advanced auto analysis coupled with Online Threat Verification mechanism makes it the best tool available in the market for eradicating the evil streams.
It comes with fast multi threaded ADS scanner which can recursively scan over entire system and quickly uncover all hidden streams. All such discovered streams are represented using specific color patten based on threat level which makes it easy for human eye to distinguish between suspicious and normal streams.
It has built-in Advanced File Type Detection mechanism which examines the content of file to accurately detect the file type of stream. This makes it great tool in Forensic Analysis in uncovering hidden documents/images/audio/video/database/archive files within the alternate data streams.
It is fully Portable software which can be directly run anywhere without installing locally.
It works on wide range of platforms starting from Windows XP to Windows 8.
Alternate Data Stream (ADS) is the lesser known feature of Windows NTFS file system which provides the ability to put data into existing files and folders without affecting their functionality and size. Any such stream associated with file/folder is not visible when viewed through conventional utilities such as Windows Explorer or DIR command or any other file browser tools.
It is used legitimately by Windows and other applications to store additional information (for example summary information) for the file. Even 'Internet Explorer' adds the stream named 'Zone.Identifier' to every file downloaded from the internet.

Due to this hidden nature of ADS, hackers have been exploiting this method to secretly store their Rootkit components on the compromised system without being detected. For example, the infamous Rootkit named 'Mailbot.AZ' aka 'Backdoor.Rustock.A' used to hide its driver file into system32 folder (C:\Windows\system32) as a stream '18467'.

In short, ADS provides easy way to store the malicious content covertly as well as execute it directly without making even a bit of noise. Only sophisticated tools such as StreamArmor has the ability to discover and destroy these hidden malicious streams.

For complete details on 'Alternate Data Streams' please refer to the following article, 'Exploring Alternate Data Streams'
Though StreamArmor is a Portable tool, it comes with Installer so that you can install it locally on your system for regular usage. This installer has intuitive wizard which guides you through series of steps in completion of installation.
At any point of time, you can uninstall the product using the Uninstaller located at following location (by default)
[Windows 32 bit]
C:\Program Files\SecurityXploded\StreamArmor

[Windows 64 bit]
C:\Program Files (x86)\SecurityXploded\StreamArmor
Screenshot 1: StreamArmor detecting Rootkits such as HackerDefender, Agent.X, Vanquish etc in addition to other hidden streams.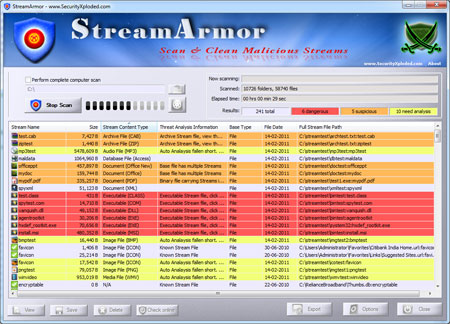 Screenshot 2: StreamArmor displaying the snapshot view of the selected Rootkit stream file which clearly shows that its a executable file (starting with "MZ").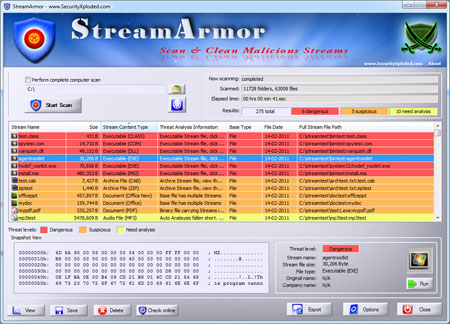 Screenshot 3: Online threat verification of uncovered 'HackerDefender' Rootkit stream file using VirusTotal.com.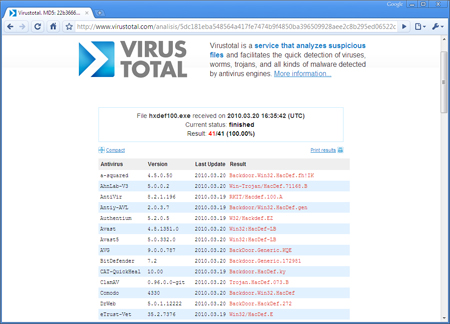 Screenshot 4: HTML Report generated by Stream Armor showing scan summary along with detailed Threat analysis.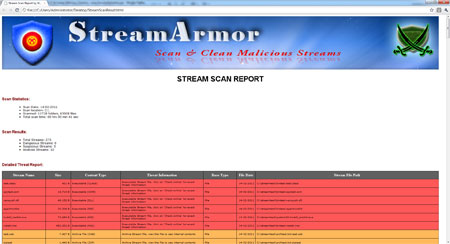 Now supports Windows 8 platform. Quick Drag & Drop of scan folder.
Right click menu for quick actions, enhanced HTML report, improved user interface with cool banner.
Improved user interface, New version detector & Installer.
Fixed autoanalysis related issues on Non-English systems, Changes to VirusTotal verification and other usability related changes.
First public release of StreamArmor